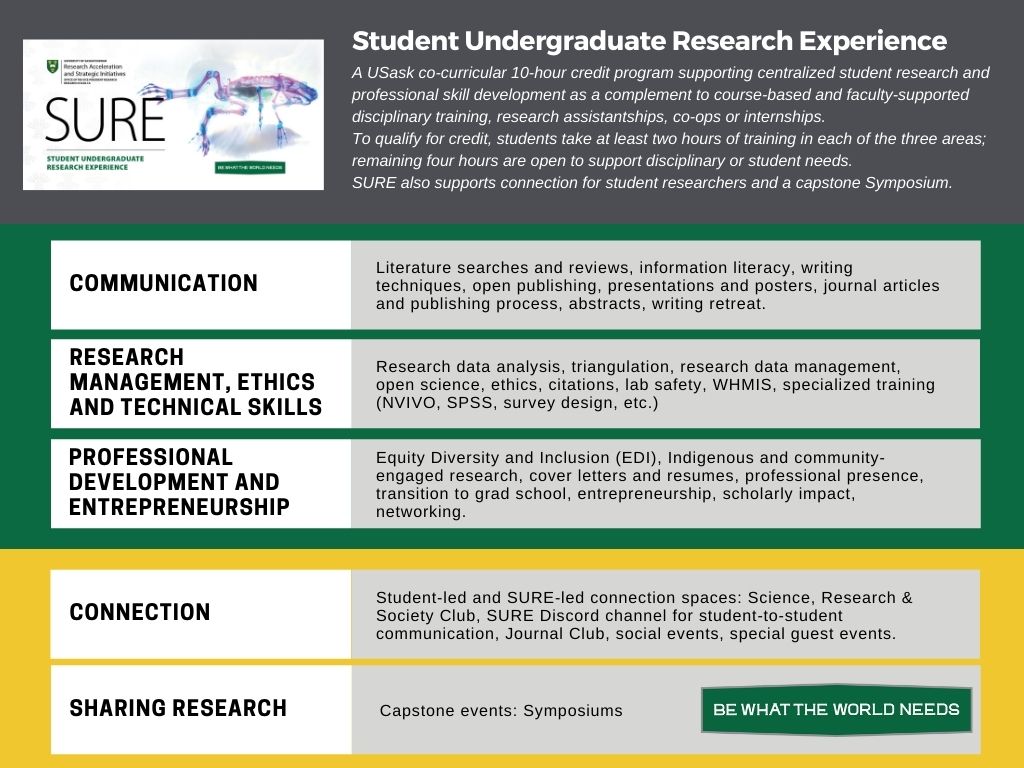 Registration and FAQs
All undergraduate students conducting course-based or faculty-led research projects at the University of Saskatchewan (or interested in doing research now or in the future) are welcome to take part in SURE: Student Undergraduate Research Experience. Students taking co-op or internship positions are also welcome to join. 
Note: all students at USask conducting research must be supervised, and all research must be pre-approved (if required) by the relevant ethics committee.  Do not start a research project or conduct any research unless you are approved and supported to do so. Scholarly and artistic research projects may be completed independently if they meet ethics standards for that discipline.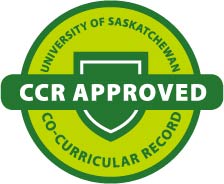 Students who register in SURE will be eligible to receive co-curricular credit by completing a minimum ten hours of training, webinars, or events supported or delivered through SURE each term (fall, winter, or summer). Students keep their own record of which webinars, training or events they attend. At the end of each term, they submit their hours and, if qualified, SURE is added to their co-curricular record.
SURE also partners with the College of Graduate and Postdoctoral Studies for the annual Summer Symposium, and with the USSU to support the Undergraduate Research Symposium.
Please email undergraduate.research@usask.ca with questions. 
---

Students in SURE must complete 10 hours of training, from the following categories: 

Communication: 2 hours minimum

Research ethics, safety, management and analysis: 2 hours minimum

Professional Development/Entrepreneurship: 2 hours minimum

The remaining 4 hours can be chosen to respond to the student's experiences, disciplinary needs, and to focus on any areas with need support or improvement. 

---

Remember: all research conducted at USask must be supported via a supervisor or within a course-based research experience. Scholarly and artistic projects may be completed independently if they meet the ethics criteria of that discipline. 
SURE now uses an ongoing registration format. By signing up, you agree to receive emails from the SURE program. You may unsubscribe from our email list at any time. 
We also recommend following the Undergraduate Research Initiative on Instagram, Facebook, Twitter, or LinkedIn. Find those links here.
Join SURE: Student Undergraduate Research Experience! 
Webinars, Training and Events
Student Connection
The SURE program sponsors the Science, Research & Society Club.
VOLUNTEERS TO LEAD ARE WELCOME! 
Open to SURE participants and the wider campus community, this club aims to engage students in STEM and research across campus in two ways:
to create a safe space for students to discuss, analyze and question research articles, science concepts and ideas;
to explore the human aspects of science by having conversations about topics like imposter syndrome, representation in STEM and research and EDI (Equity, Diversity and Inclusion).
All registered SURE students will recieve updates, and events will be posted on PAWS. 
SURE supports a number of student social events throughout the year, including movie screenings, lab crawls, journal clubs, supervisor-student social events, SecretUSask and a student-led Discord channel amongst other ideas. Access to these spaces is via registration with SURE (see above). Registration for SURE is ongoing -- apply above!
SURE Symposiums
Registration is OPEN for the fall 2022 Symposium! 
The SURE: Student Undergraduate Research Experience fall Symposium celebrates student research work from all disciplines and all sources: course-based, independent, or faculty-supervised research, scholarly, or artistic work!
The SURE: Student Undergraduate Research Experience Fall 2022 Symposium is scheduled for Wednesday, December 7th 9am-4pm in Convocation Hall! 
All undergraduate students at USask who would like to showcase their research, scholarly, artistic, or applied projects are welcome to register!
Any faculty teaching a FYRE or research-based class (capstone, honours, experiential, project, or inquiry-based class including scholarly and artistic projects) are also welcome to register their class to showcase project work to the wider USask community. 
Registration: https://www.surveymonkey.ca/r/SUREFall2022Symposium
SURE Symposium 2022
Summer 2022 SURE Symposium online (USask NSID required to view)
Winners: 
Honourable Mentions:  Jesse Adrian Amanda Ewen Morgan Lehmann Tessa Lester Vanessa Brown
Third Place: Mykyta Shvets
Second Place: Leah MacFarlane
First Place: Chi Vu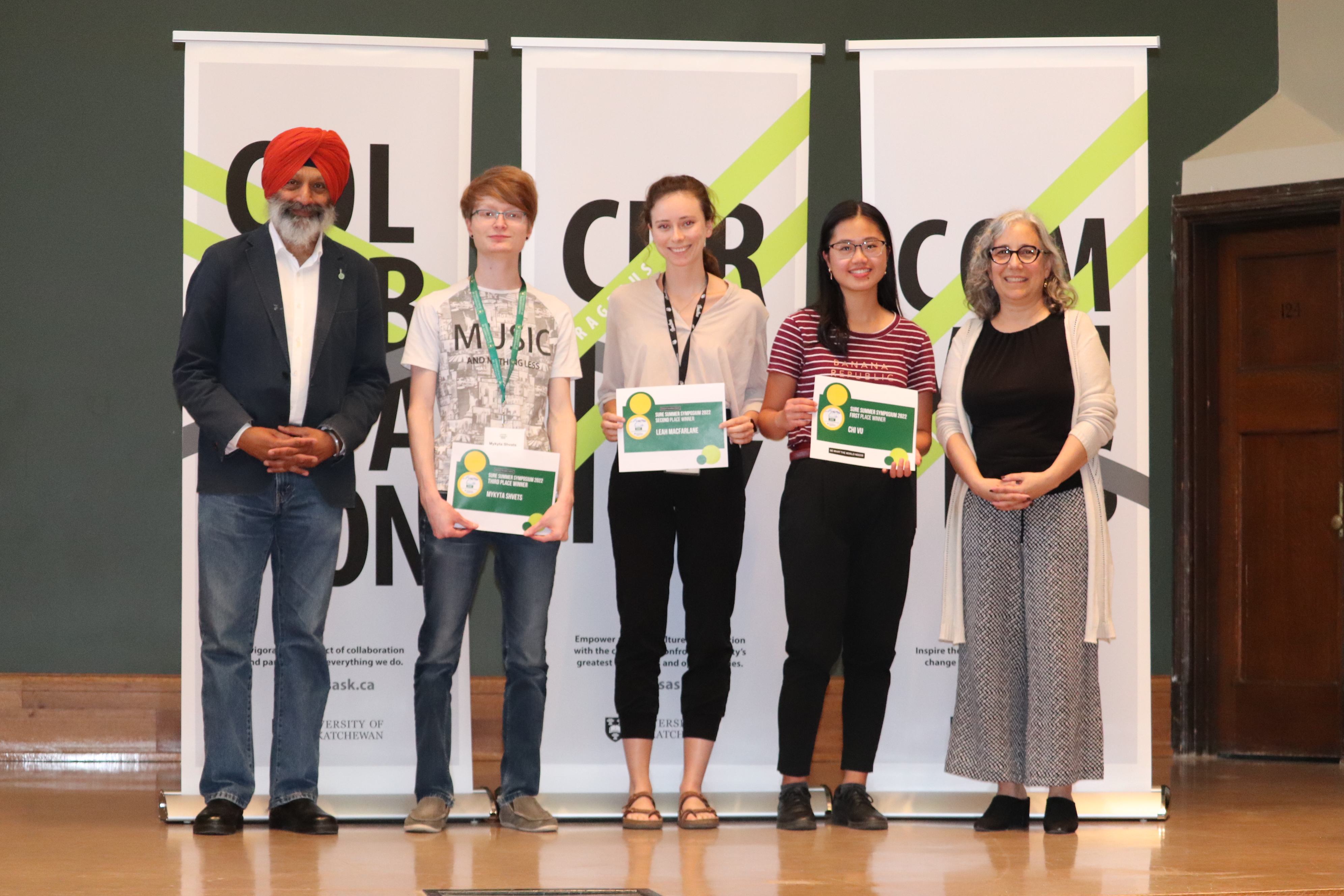 SURE Research, Scholarly and Artistic Works Fall 2021 Symposium
Research Acceleration and Strategic Initiatives is pleased to announce our new SURE (Student Undergraduate Research Experience) RSAW (Research Scholarly and Artistic Works) Fall 2021 Symposium. This fall Symposium complements the SURE summer Symposium and the USSU Spring Symposium as an additional campus-wide symposium open to all undergraduate students in all disciplines.
Details: The Symposium was held online via Canvas between November 30th and December 7th. 
Symposium Winners: 
Honourable Mentions:
Katie Sofko: Changes in Tibial Articular Cartilage T2 Relaxation Time with Load – An in vivo Repeatability Study (authors Sofko KG, Elebute I, Cui L, Bzowey N, McWalter EJ) Engineering
Kayley Lawrenz: The Experience of COVID-19 in Rural Saskatchewan Long-term Care Homes (with Ivy Myge, B.A., Rebeca S. Pereira, BA., & Paulette V. Hunter, Ph.D.) Health Sciences
Yash Tendulkar: Experiences Supporting Videoconference Visits During the COVID-19 Pandemic in Rural Saskatchewan Long-term Care Homes (Supervisor Dr. Paulette Hunter) Health Sciences
Award winners: Second Place (three way tie)
Alina Sami: The Role of APOBEC3C Deoxycytidine Deaminases in Somatic Mutagenesis (supervisor Dr. Linda Chelico) Health Sciences
Cindy Li: Design and synthesis of inhibitors for Glucocerebrosidase, a top biomarker and therapeutic target for Parkinson's Disease (with Dr. Chris Phenix  Morshed Chowdhury) Physical and Life Sciences
Norah Ridley: An exploration of documents' privacy leaks (with Enrico Branca and Natalia Stakhanova) Computer Science and Math
Top Award: First Place
Leah Houseman: "It's a Violation of My Freedom": Getting Informed, Social Media, and Face Mask Use in Canada (Supervisor Dr. Scott Thompson) Social Sciences and Business