DARE: Discovery, Achievement, and Research Excellence at USask is a new initiative out of the Office of the Vice-President, Research. DARE provides targeted programming for faculty who are new to USask to help launch their research programs and build cross-campus connections. DARE supports new faculty within 5 years of their hire date, including targeted programming for Early Career Researchers. DARE will provide practical and tailored resources for new faculty, create interdisciplinary programming to support grant development, and host networking events for new faculty.
Welcome to USask
DARE provides an early introduction to the USask research community. The DARE program will:
Reach out to and meet with new faculty hires;
Establish critical connections across USask;
Offer strategic pilot programming;
Answer questions and provide resources to help launch your research program.
For more information and questions, contact dare.rasi@usask.ca
Programs and Resources
DARE
is designed to provide incoming faculty and Early Career Researchers (ECRs) with the practical supports to give our USask researchers a competitive edge. One way we seek to do this is through developing strategic pilot programs. 
Current Pilot Program
DARE recently launched our inaugural pilot program to support ECRs interested in applying to the
2023 New Frontiers in Research Fund (NFRF) Exploration
competition. This competition reserves a proportion of awards for ECRs that is equal to the proportion of applications submitted that are led by ECRs.   
This pilot will enable a group of ECR peers to learn together and support one another in the development of their NFRF Exploration proposals. NFRF's definition of an ECR can be found on their
website
.  
Starting in July, this pilot program has met monthly to create opportunities to understand the NFRF Exploration funding opportunity and application process, along with offering space for ECRs to learn and support one another during the application process. ECRs have gained valuable insight from key speakers and helpful feedback on their proposals to support submitting the strongest application possible. 
For more information and questions, contact
dare.rasi@usask.ca
Events
One of DARE's key objectives is to identify and build interdisciplinary relationships between a variety of USask audiences. Specifically, cultivating interdisciplinary, cross-campus connections and opportunities for networking through a series of scheduled events.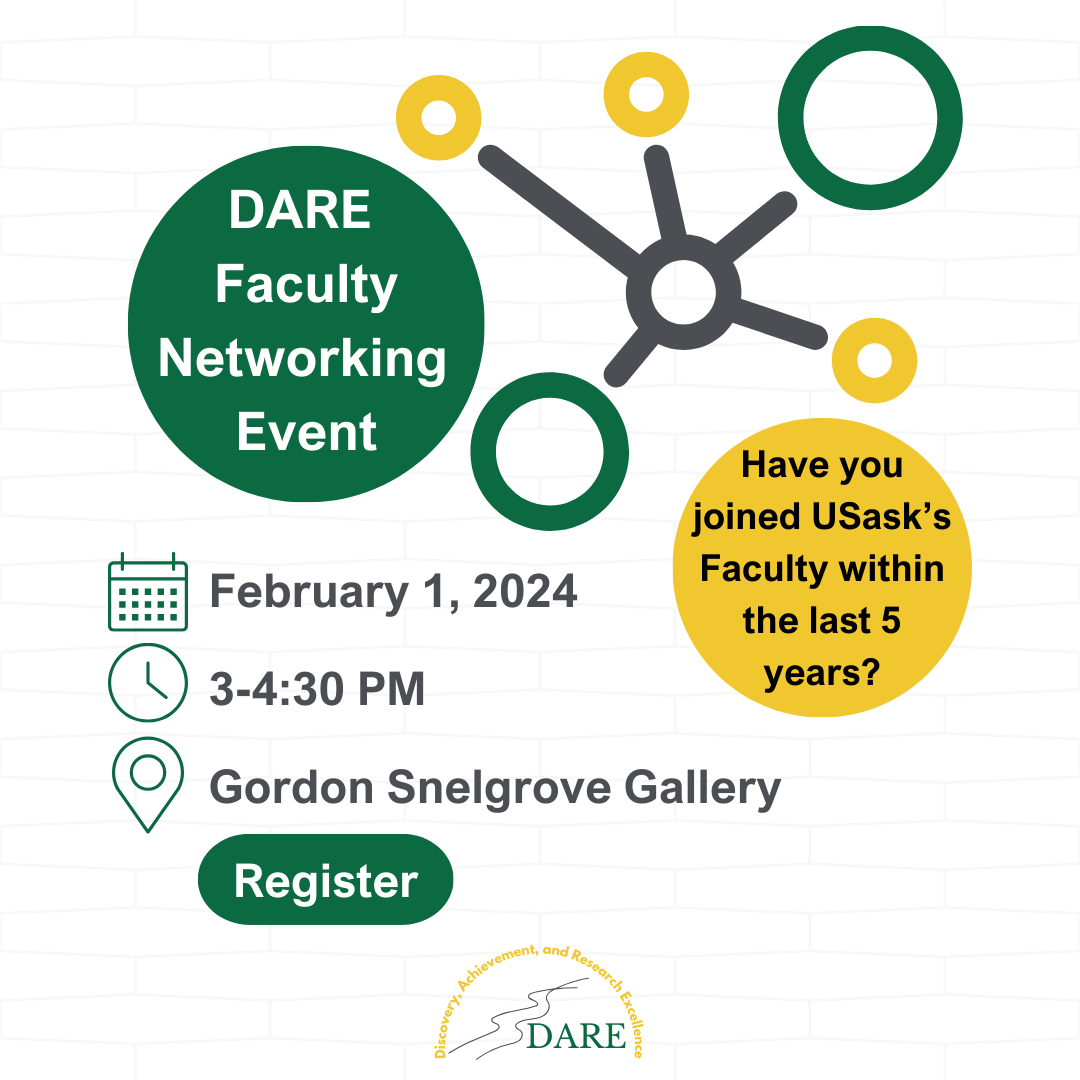 Table Talks
Welcome to DARE's Table Talks. The purpose of our Table Talks is to inform and inspire. We will be tackling topics important for fostering research success. Come join us!
Grant Writing: Impactful Knowledge Mobilization (KMb)
Most grants require a knowledge mobilization component. This Table Talk session is the second of several on the topic of grant writing. This session discusses key components of knowledge mobilization – understanding the value of KMb; creating a KMb plan; the importance of partner engagement; and arts-based approaches to add to your KMb toolbox. So, bring your lunch and let's discuss the best approaches on how to get the "right information" to the "right people" at the "right time."

When: 16 January 2024, 12:00 to 1:00 PM               


Where: Room 1B11, Health Science Building   
Establishing Your Online Identity and Tracking Your Scholarly Impact
The online environment gives researchers more opportunities than ever to establish themselves in specific research areas, to promote their research, and to track the impact made by their scholarly contributions. Come to this session to find out about some of the most commonly used tools and metrics to track and enhance your scholarly impact. You will learn about ORCID, Google Scholar profiles, ResearchGate, X (formerly Twitter), citations, altmetrics, and more.

When: 13 February 2024, 12:00 to 1:00 PM             


Where: Room 1B11, Health Science Building 


The Importance of Telling Your Research Story
The Research Profile and Impact (RPI) unit at USask is here to support researchers, staff and leaders to effectively be heard and understood with both internal and external messages. We are here to create compelling materials and new tools for audiences with the overall goal of building USask's reputation and showing the world the exciting research, scholarly and artistic work that takes place on this campus every day. During this session, Leslie-Ann Schlosser, Director of Research Profile and Impact, will explain why you should see storytelling as part of your research process – not an afterthought. Communicating efficiently, using plain language and accessing channels like social media can all lead to positives for you and your research.
When: 12 March 2024, 12:00 to 1:00 PM                  


Where: Room 1B11, Health Science Building 

Past Table Talks:
October 19, 2023 – Building Your Research Program
Wondering where to begin to start building your research program? This Table Talk session brings together a panel of researchers spanning across different career stages and disciplines to discuss key factors in building your research program. Bring your lunch and your questions. Topics touched upon will include setting up your research space, planning for funding and publications, accessing mentorship, recruiting students, and more.      
November 16, 2023 – Understanding the Grant Lifecycle at USask
Need to understand how to apply for and manage grants at USask? This Table Talk session brings together a panel of research administrators to discuss the grant lifecycle, including pre- and post-award. So, bring your lunch and your questions.
December 7, 2023 – Intro to Grant Writing
Grant writing can be tough, and always takes longer than anticipated. This Table Talk session is the first of several on the topic of grant writing. This session discusses grant writing 101 - structure, approach, and how to write an impactful lay summary.
Connect with DARE
Join our mailing list to receive targeted information for new hires, invitations to exclusive events and workshops, and stay abreast of exciting opportunities for new faculty hires!